CageSense™ - Wireless Environmental Monitoring System for Fish Farming


Boost productivity, improve sustainability and lower the risk of health and safety challenges at your fish farm with our smart-sensor environmental monitoring system – developed from scratch for a smarter, leaner and more profitable operation.
Wireless

The CageSense™ system is fully wireless, with the only cables required being the power and data cable going into the topside unit


Superior battery life

By utilizing smart IoT technology, our sensory probes provide a sensational battery life of up to 24 months


Plug and Play

Installing and expanding your smart farm has never been easier. CageSense™ is in fact so convenient that you can call it a PnP system.


Eco-friendly

Avoiding miles of cables in and around your fish farm will make it more sustainable with a lower risk for health and safety challenges.


Intuitive GUI

Our intuitive GUI is built to give you easy, immediate access to critical information, while still recording detailed datasets for more comprehensive analysis.


Open API

With a pledge to always keep our API open, we will never limit how you work with the analysis of the data our CageSense™ system provides.

Improve productivity and fish welfare with CageSense™
CageSense™ is a wireless smart-sensor environmental monitoring system developed to boost productivity, improve sustainability and lower health and safety risks on modern fish farms. All with the ultimate goal of making your fish farm more profitable and fit for the future.

In order to achieve this, we have developed the smartest wireless aquafarm system in the world, focusing on usability through minimizing maintenance and making it easier than ever to install and expand your Smart fish farm.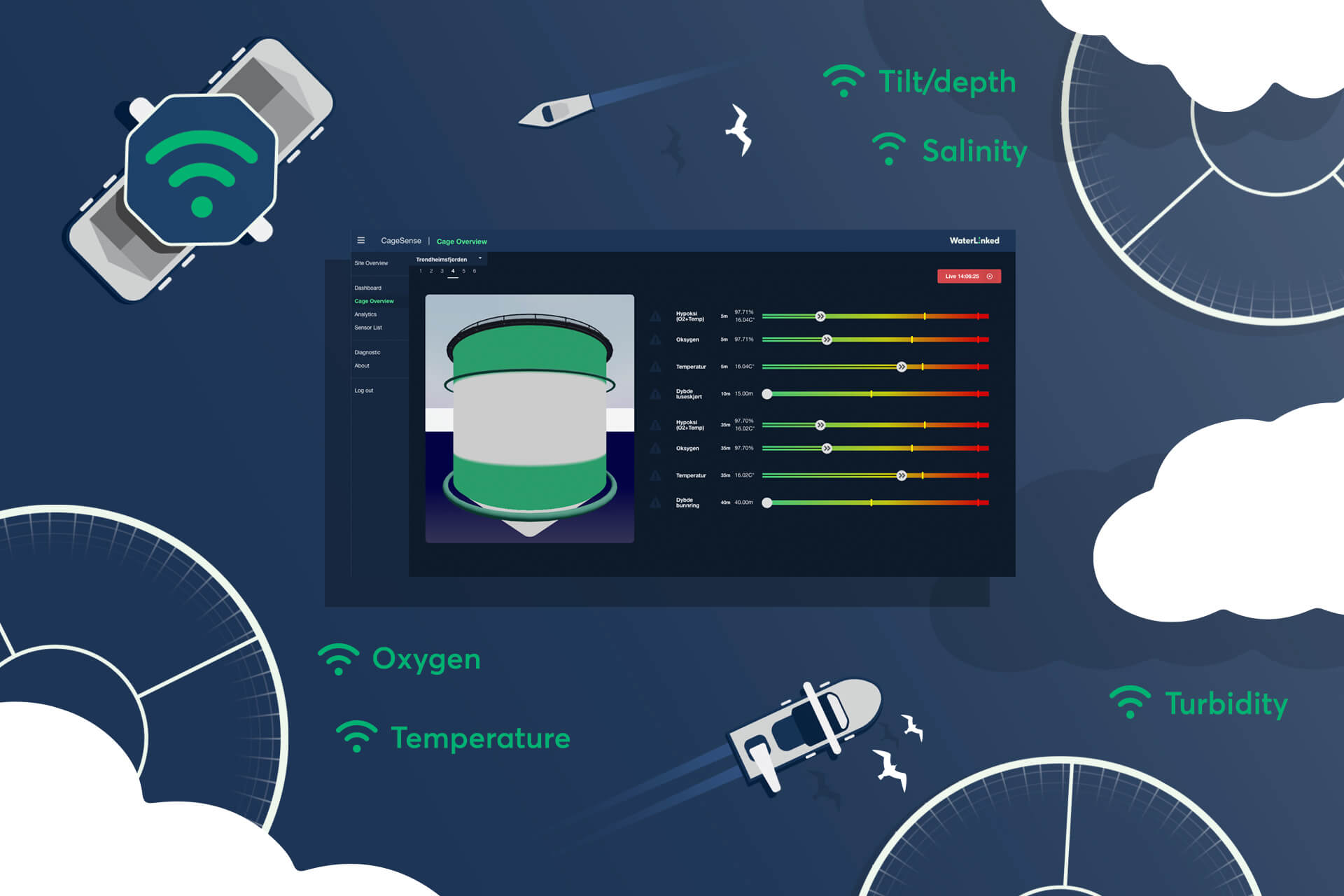 Integrate and expand your system seamlessly
Our CageSense™ wireless smart-sensor system was created from the ground up with user friendliness and functionality in mind. With many years of valuable experience working within the aquaculture industry ourselves, we were familiar with the typical challenges that come with installing a new, or expanding an existing monitoring system.

The steps to install, use and even expand our system are easy:
Install the topside unit on your barge, place the wireless receiver in the sea

Connect the topside unit via cloud/API, LAN or both

Register each sensory probe's unique serial number and assign it a position/unit value in the easy-to-use GUI (Graphical User Interface)

Place the sensory probe at the predefined location

The system communicates autonomously in an instant, providing you with the readings you need in the GUI on any device



To expand your CageSense™ system, simply repeat steps 3-5.

What makes up the CageSense™ system

Smart-sensors​
Our smart technology sensor probes are revolutionary in the aquaculture field. Utilizing the latest IoT technology, you'll always be aware of the status of your fish farm. We produce smart-sensors to monitor everything you are likely to want to measure. Our current range of smart-sensors comprises salinity sensors, oxygen sensors, combined depth/tilt sensors, temperature sensors as well as turbidity sensors.
Topside kit

The topside kit comes with everything you need to take advantage of your CageSense™ system. The topside unit can be connected either to the cloud to provide access from anywhere in the world, or by using a LAN connection to give local access only, and requires a power connection to be operational.

Contents:

Small "Pelicase 1170" based top-side computer

​Four receivers to one top-side with capacity to read all wireless smart-sensors (up to 200 probes) at the fish farm.



Requirements

Power

​Ethernet connection (for Local access only)

Internet connection (for Cloud access)



Wireless

Underwater wireless communication is complicated. With signals having to penetrate up to 200.000 Atlantic salmon, you can compare the signal disturbance to trying to hear a delicate symphony over a loud rock band. Being global leaders in the field of underwater acoustics, something that comes from working with customers in a range of verticals, makes us better equipped to tackle this challenge better than most.

Going wireless with environmental smart-sensors will not only make it easier to become a smarter fish farm on your own terms, it will also save you time and money throughout your whole operation. Modernising your farm to be even smarter, or moving sensors to fine tune your data harvesting will become much more cost and time efficient than before thanks to the simplified approach through the use of wireless technology. No cable breakage means no added cost to repair or replace cables, and down-time caused by cable breakage will be a thing of the past.

The benefits of going wireless are many:

- No added cost caused by cable breakage.
- No down-time caused by cable breakage.
- No clutter with cables or topside electronic hub at the floating collar handrail of the cage.
- Easily move a sensor – no new cables to be laid
- Easily expand with more sensors – no new cables needed

Superior battery life with smart technology
We didn't set out to revolutionize how batteries work. The great minds at Water Linked instead looked towards the latest, state of the art technology to find ways to best utilize how batteries work. With other wireless systems, you have to choose between rapid update frequencies or acceptable battery life.

By using smart Internet of Things technology, our sensory probes send data (which is the energy consuming task of a probe) only when an irregularity is noticed. And when an irregularity does occur, alerts are sent immediately. What this means for you and your operation is that you are able to keep monitoring for longer periods of time between charges, without compromising on the update rate.​
Plug and Play
It's easy to install your CageSense™ system: Just place the receiver unit in your cage/pen and connect it to the topside unit, both of which come in your first CageSense™ delivery by default.

Once the topside unit is connected to a network, either locally or to the cloud, simply start adding the serial numbers of your new probes to map them in the system. When the probes are mapped, you are ready to place them at the mapped location in your cage.

The fact that no cables or cumbersome installation is required lets you install and expand your CageSense™ system in line with your requirements in a cost efficient manner.​
Eco Friendly

The more cables, the more clutter. Any avoidable clutter on a fish farm is a hazard to workers; an unnecessary danger to health and safety. Avoiding unnecessary cables also makes for a greener industry by lowering the demand for cable production; a manufacturing process that directly impacts the environment.

Similarly, the environment is positively impacted by how our smart-sensor probes are developed to not damage the cages and thus not contribute to fish escaping. It's not just eco friendly; it simply makes sense.​
Intuitive GUI

Our intuitive graphical user interface (GUI) is designed to provide a clear visualization of your operation. Connected either through LAN or the Cloud, you always have the data that you need available.

Whether you are overseeing multiple sites, you manage a single site, or even require an in-depth view of a particular cage, CageSense makes it easy to quickly view the status of any of your farms. With predefined actions to take in a given scenario, flagged as alerts to the people who need to receive them, running your fish farm is no longer down to each shift manager's perception of a possible issue.

Our GUI allows for damage control to be carried out immediately, by the book. And although using our GUI is as easy as taking a bite of an apple, all the data that is fed into it is available as datasets to be analyzed as deeply and intricate as you'd ever want to.​
Open API

We believe in open systems. That's just common sense. When running a highly tailored operation, you should not have to be locked into our solution for all your sensor data and analysis.

By using our open and well documented API you can integrate and send data to basically any external software package.​
Ready? Fast forward to sustainable aquaculture!